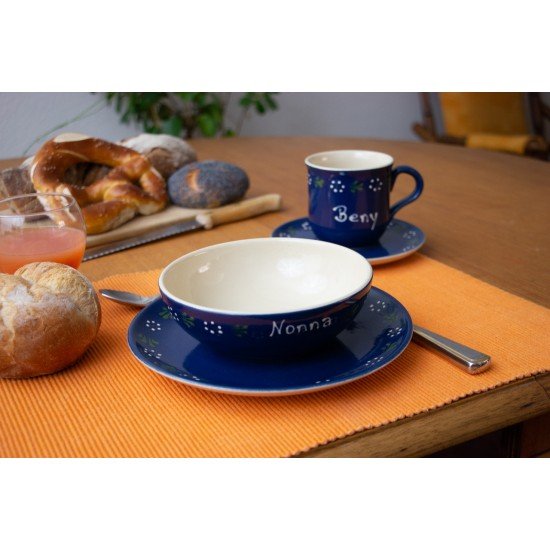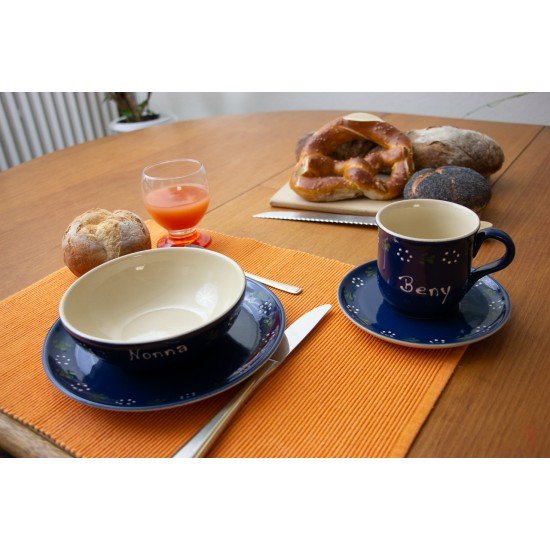 Named Mug/Saucer/Breakfast plate/Bowl - Bunzlau blue Set of 4
"The Classic"
1 Named mug, 1 Saucer, 1 Breakfast plate, 1 Bowl
In the set you save 13%

These products are freehand labeled and painted.
These "cultural objects" conveys for 40 years the impression and coherence but not of "perfection". This makes each piece unique.
Manufacturing peculiarity:
The blue tone of different crockery parts and ordering cycles may vary slightly and is part of this decor.
Product features
Usage
Dishwasher/Microwave
Color
blue
Content
Mug 2,5 dl, Bowl 3,8 dl
Lettering style
Underglaze, freehand
Material
Stoneware
Model
Coffee mug, Saucer, Breakfast plate, Bowl
Shipping terms
Delivery modalities
Custom made
Shipping within
6 - 13 day from thursday 18.00 h
Labeling
Only 1 word/number allowed per name field. Exception double names like e.g. Jean-Pierre
Stock:

6 - 13 days from Thursday 18:00

Model:

8300-01 & 1300-01 & 1400-01 & 6886-01

Weight:

0.00g